How to Become a Garuda on Reformer Instructor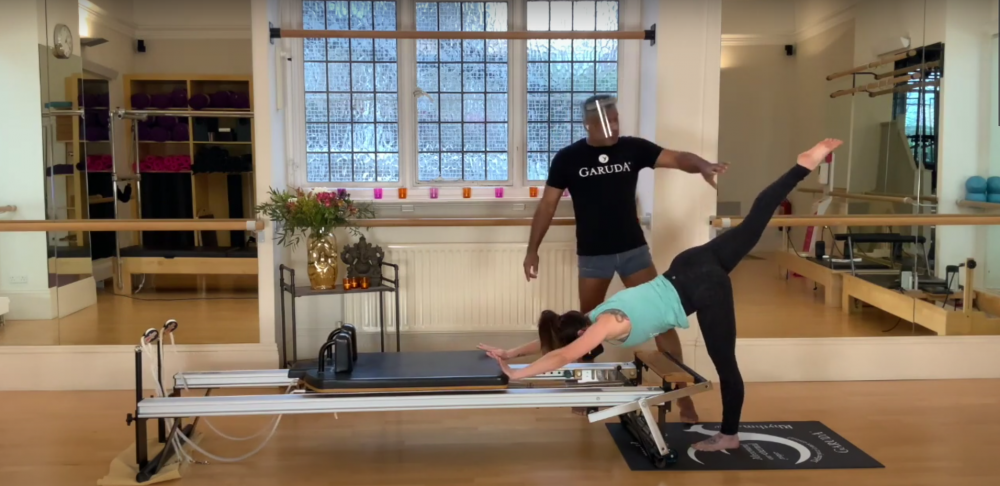 If you are a fitness professional looking for a new challenge,  you might be looking into how to become a reformer pilates instructor. 
The reformer is a fantastic addition to your repertoire, as it is a popular and challenging technique. However, some may find it limiting, which is where Garuda on Reformer can be introduced. 
How is the Garuda Approach Different from Pilates Reformer Instructor Training?
Whether you have had previous experience with reformer Pilates or it is completely new to you, it's important to understand how traditional reformer techniques might differ from Garuda. 
In traditional reformer Pilates, there is an emphasis on diaphragmatic breathing alongside coordinated movements to organise the body's posture. 
Garuda on Reformer provides the opportunity to use a traditional piece of equipment in a contemporary fashion. Whilst it embraces the previously mentioned Pilates principles, it is its own multitude of innovative movements that challenge strength, endurance, flexibility and coordination. It also works to inspire more self-confidence and grace in the moving form. 
How to Become a Garuda on Reformer Instructor
1. Ensure You Have Existing Qualifications
In order to become a qualified Garuda instructor, you must have already completed a movement training qualification.
This could be in anything from personal training, dance, yoga or Pilates. If you are unsure whether you qualify, please feel free to get in touch with us.
2. Indulge in The Garuda Approach
The Garuda approach is holistic, organic and dynamic and you should be prepared to fully immerse yourself in our Garuda principles. Whilst they encompass elements of Pilates, yoga and dance, Garuda is its own entity, and therefore must be learned and taught accordingly.
Although it is not a requirement, taking our Foundation Matwork course is recommended for those who are entirely new to Garuda. This course teaches you fundamental principles of the method, which will undoubtedly prepare you for the Garuda on Reformer course.
3. Take a Garuda Reformer Instructor Training Course
At this stage, you should feel prepared to take on Garuda on reformer instructor training. In this training course you will learn how to:
Use the reformer as an apparatus of movement expression

Challenge your client's strength, endurance, flexibility and coordination

Perform innovative movements

Inspire innate confidence and grace to the moving form
After completing this reformer training, you will receive a Garuda certification, as well as PMA credits that will allow you to begin teaching.
4. Continue to Learn and Update Your Knowledge
At Garuda, we believe that once you start training with us, you begin a lifelong voyage of discovery. On top of adding unique and contemporary skills to your repertoire, you start a journey of investigation, which allows you to think outside of the box.
Therefore, your journey with us does not have to end with Garuda on Reformer. We have an abundance of techniques and equipment that you can integrate into your offering. 
With every new addition, you will dive deeper into the Garuda method and be able to provide your clients with an immersive experience. To learn more about the courses we recommend in order to become a Garuda teacher, read our previous article here.
Become a Garuda on Reformer Instructor
Ready to dive into Garuda on Reformer? Sign up for a course now or get in touch with us if you have any questions.
Sign Up For Garuda on Reformer
Alternatively, if you would like to see what other techniques are available for you to teach, take a look through our Garuda Academy.