Frustrated by having to use a variety of machines for Pilates? Looking to develop new techniques, James D'Silva created a single versatile, multi-functional device: the Garuda Apparatus. What's particularly amazing about the Garuda apparatus is that it uses a single space-saving piece of apparatus.
Traditional exercise machines are very restricted in what they can do, so James worked closely with engineers to create a single hybrid exercise device with almost limitless possibilities. With its large split platform, chair attachment increased range of movement within the framework and adjustability of the pulleys, ropes, stability sling, bars and straps, it takes exercise, body conditioning and rehabilitation to another level.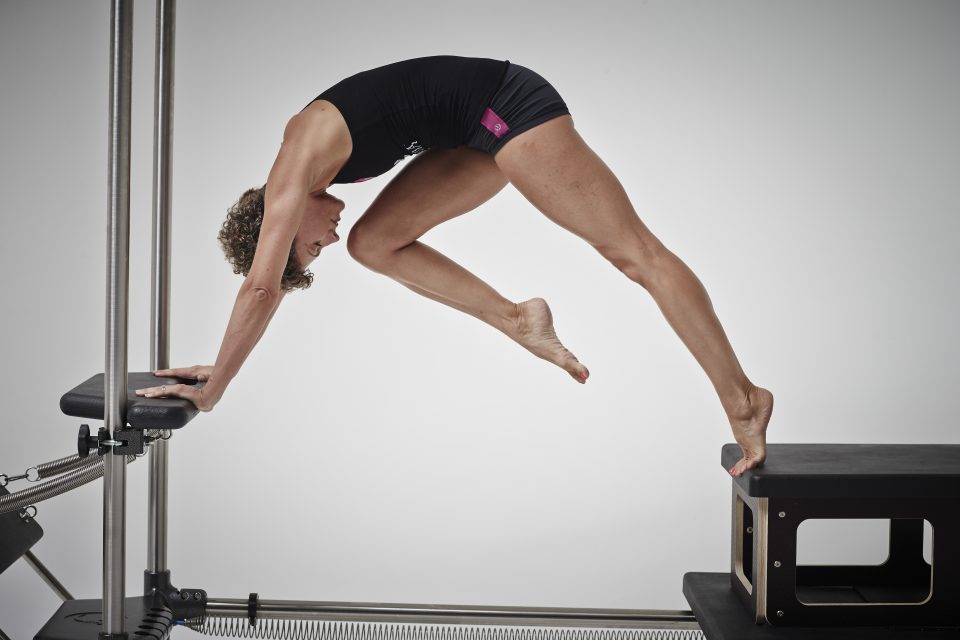 Exercises continuously flow from one to the other as the Garuda apparatus becomes your workout playground, effortlessly integrating different attributes of the equipment.
The Garuda Apparatus Specifications
£9,555 + Vat if applicable. Not including Shipping
A single piece of equipment with almost limitless possibilities
Takes exercise, rehabilitation or sports-specific training to a new level
Suitable for every area of the body, all age groups and abilities
Fully adjustable pulleys, ropes, bars, straps, plus many accessories
Can be combined with special Garuda matwork exercises
Available for purchase for studios, gyms or home use
Dimensions: 80cm wide x 320cm long x 235cm height with the Foot pedal used on the inside, 400cm with a foot pedal on the outside (custom dimensions also available)**
The following accessories are included with the Garuda Apparatus:
Trapeze bar with springs and clamps
Garuda seat, footpad, 3 springs and clamps
1 1/4" diameter x 35" pull bar with 2 spring attachments
Jump board
Hanging loops
Box
Adjustable 5 places spring bar w/clamps
Clamps
Pulleys
Ropes
Bespoke stainless steel springs
Glide ride wheel with bearings
For further information, or to purchase the Garuda Apparatus for your studio, gym or home, please contact us.
The apparatus is proprietary and protected by our patents: WO 2010/149976, US 7,967,736, CA 2,796,270,GB 2485297 & US RE46874 & USA Patent No. RE46,874 owned by D'Silva Limited.
D'Silva Ltd. has invested significant time and expenditure in capturing and protecting its intellectual property rights via the above-mentioned patents and other rights. We actively monitor the marketplace for unauthorised use of our IP and will pursue infringement through our professional advisers and the court wherever such is detected. An approach for a potential license will be considered provided this occurs before any infringement has begun.
*All prices quoted in UK £ and are correct as of January 2018 Shipping costs and local taxes are extra and will vary. Items can be shipped anywhere in the world. Email: info@thegaruda.net for details.
**Please note due to the size and weight of the apparatus it should not be moved when erected.