Garuda Workshops
Date: 12th July 2019 - 14th July 2019
Venue: Centro Studi la Torre via Paolo Costa, 2 - 48121 - RAVENNA - ITALY, Italy
Price: tba
For further details email: convegni@fif.it
Status: Spaces available
Join James D'Silva in Italy for the workshops!
12th of July – 3.pm/6.pm Foundation Matwork Workshop
13th of July  – 9.am/12.pm Barre Workshop
13th of July – 1.30pm/4.30pm Garuda Reformer Workshop
14th of July  – 9.am/12.pm Seated & Standing Workshop
Matwork (Dancers) Workshop
Garuda Foundation Matwork is a Pilates-based system that builds movement understanding and confidence gradually in the body. This cleverly devised system draws on the ancient martial arts, yoga, principles of Pilates and the beauty, grace and strength of dance. Rhythm and flow are paramount to this organic system and the elegance of alignment draws on a deeper understanding of weight placement.
Dancers greatly benefit from these principles linking this movement method to their professional training.
Garuda on Reformer
Moving away from traditional Pilates, Garuda presents different movement possibilities through its vast repertoire and promotes innate confidence and elegance to the moving form.
Using the reformer as a tool of movement expression, Garuda explores a practice that is challenging in strength, endurance, flexibility and coordination.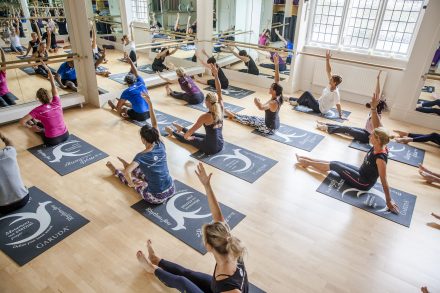 Location